SEO Tech – Google Analytics WordPress Plugin (GA Fetch)
GA Fetch – What Does It Do?
This is a very powerful custom plugin that uses an API (advanced programming interface) to fetch data from Google. This data appears in a meta box on every post/page.  It is also available as an export in spreadsheet form.  The following time periods are available:
Last 30 days
Last 12 months
All time
Google Analytics Channels
The following individual channels are captured and displayed in a meta box on each page/post:
Organic Search – Visitors clicked on non-paid search result
Referral – Visitors clicked on a link from another site (excludes major search engines)
Social – Visitors clicked on a link from a social media page such as Facebook, Twitter, etc.
Direct – Visitors navigated to the page directly from their browser
Email – Visitors clicked on a link in an email
Paid – Visitors clicked on a paid search result
Display – Visitors clicked on a display advertising link on an external website
Other – Google is unable to determine the source of the traffic
Google Analytics Data Export
The plugin also includes a function that allows the administrator to export an Excel spreadsheet. The following columns are available:
Author
Post Title
Word Count (very useful when dealing with thin content)
Publish Date
URL
WordPress CMS URL
Using GA Fetch Data
The following are some of the ways this data is used:
Identifying cornerstone/evergreen content that should be the focus of rank/authority distribution. This information can be used in conjunction with the Tagipedia plugin.
Identifying old and/or thin content that should be removed or preferably redirected. This information can be used in conjunction with the Thin Content Redirection plugin.
Identifying the most popular topics and authors.
Researching traffic trends and diagnosing issues with different traffic channels.
Getting Started
This is NOT a free plugin.  It is specifically designed for publishers with years of content and thousands of posts.  It can use significant amount server resources and should ONLY be used under the supervision of a WordPress hosting specialist.
Our partners offer FREE no-obligation consulting on the implications of the plugin and whether it is best for you.  Please click here to contact us and we will put you in touch with the appropriate specialist immediaitely.  Nearly all specialists respond in less than an hour.
The plugin subscription can only be purchased through one of our partners and costs $600 per year for the primary domain, and $150 per year for each additional domain.
GA Fetch Screenshots
Settings and Data Export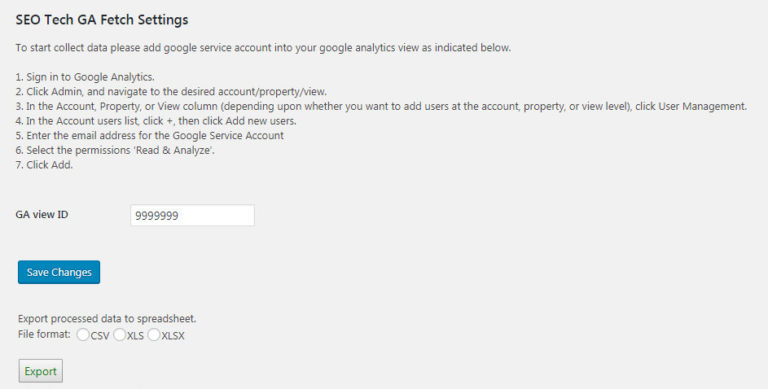 Post/Page Meta Box